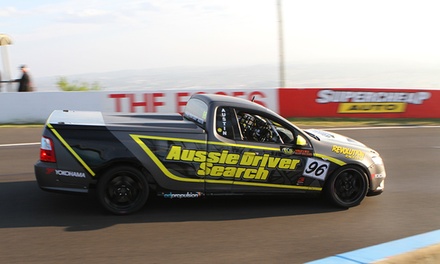 Receive an ADS T-shirt and take part in a free prize draw with a chance to make it in motorsport and become a V8 Supercar driver
Price: $29.00
Value: $29.00
Discount: 0%
You save: $0.00
Description
The Deal
$29 for a T-shirt and free entry into prize draw to become a V8 Supercar Driver
The Prize Draw
Each voucher holder receives a T-shirt and free entry into the prize draw for a chance to win a drive in a real V8 Supercar, V8 Utes Series and Toyota 86 Racing Series race cars to prove your skills as a race car driver, with a further chance of moving onto the finale free of charge to win a fully funded drive in the 2019 Dunlop super 2 series in 2019.
The winner of the prize draw will get to select a date from the list below to drive the three cars.
2018 Aussie Driver Search dates
May 28: Sydney Motorsport Park, NSW
June 12: Tailem Bend, SA
June 25: Winton, VIC
July 12: Morgan Park, QLD
August 8: Pukekohe, NZ
August 31: Barbagallo, WA
September 20: Sandown, VIC
October 24: Norwell, QLD
November 6: Wakefield Park, NSW
Additionally, the races above will be scored by a panel of judges and the drivers they deem to be the top 10 out of 30 will go on to compete in a finale on December 11-12th at Wakefield Park, NSW. The winner of this will then go on to race in full season in the 2019 Dunlop Super2 Series which includes $AUD600,000 funding.
Terms and Conditions
Fine Print: Aussie Driver Search T-Shirt
• Limit of 10 vouchers per person
• Purchase up to 10 additional as gifts
• Please allow 30 days for delivery of T-shirt
• Ladies' and Men's T-shirts available; selection made when ordering through Aussie Driver Search website
• Valid for ages 16 and over only
• Standard fine print for all deals
How to Redeem: Aussie Driver Search T-Shirt
• Redeem by: 30 Apr 2018
• Redeem online: http://www.aussiedriversearch.com/groupon
(1) Enter name, delivery address, shirt size and gender, Groupon Code and Security Code
(2) This will automatically enter you into the free prize draw
(3) Wait for the T-shirt to arrive and the notification if you have won
Fine Print: Win a V8 Supercar Drive
• Open to any members of the general public, over the age of 16, who buy this deal and redeem their voucher as stated in the How to Redeem section
• The Prize will be drawn by as a random computer generated selection at 1pm on 1 May 2018 at 20 Fifth Avenue, Katoomba
• The winner does not need to be present to claim the prize
• The winner will be notified by phone call and email
• The result will also be published on Aussie Driver Search's Facebook page
• The winner of the prize draw will get to select a date from the list below to drive the three cars
– 28 May 2018: Sydney Motorsport Park, NSW
– 12 June 2018: Tailem Bend, SA
– 25 June 2018: Winton, VIC
– 12 July 2018: Morgan Park, QLD
– 8 August 2018: Pukekohe, NZ
– 31 August 2018: Barbagallo, WA
– 20 September 2018: Sandown, VIC
– 24 October 2018: Norwell, QLD
– 6 November 2018: Wakefield Park, NSW
• Additionally, the races above will be scored by a panel of judges and the drivers they deem to be the top 10 out of 30 will go on to compete in a finale on December 11-12th at Wakefield Park, NSW. The winner of this will then go on to race in full season in the 2019 Dunlop Super2 Series which includes $AUD600,000 funding
• Groupon reserves the right to not honour suspicious or fraudulent transactions
• NSW Permit No: LTPS/18/21170
• Aussie Driver Search prize draw terms & conditions: https://goo.gl/raH5K6