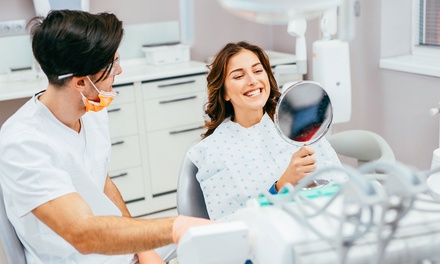 Ceramic zirconia crown is designed to restore decayed and damaged teeth to their natural shape and size
Price: $119.00
Value: $119.00
Discount: 0%
You save: $0.00
Description
The Promotion
$119 for for a deposit for one ceramic zirconia crown for one tooth
$799 for one ceramic zirconia crown for one tooth
Highlights
Includes initial consultation and an X-ray to assess the patient's suitability
Ceramic zirconia crowns are the strongest form of dental crowns available
Aims to restore broken or decayed teeth and improve their appearance
What is a dental crown?
Crowns are used to entirely cover damaged teeth in order to restore their function and appearance
What preparation is required?
Clients are advised to maintain good dental hygiene beforehand, possibly visiting a hygienist to ensure teeth are in optimum condition for dental work. 
A Healthy Dose of Groupon
Three reasons to buy healthcare through Groupon:
1) Merchants you can trust We ensure all of our healthcare providers hold appropriate registrations and are regulated by the Medical Council of New Zealand or the Dental Council of New Zealand as applicable.
2) No need to hurry These offers are here for the long run, so you can take your time before making a decision.
3) Had a rethink? Get a refund If you change your mind after buying a Groupon or if it turns out a treatment isn't suitable for you, we'll give you a full refund.
Otahuhu
Unit 6, 217-225 Great South Road

Terms and Conditions
• Limit of 1 voucher per person
• Valid for new customers only
• Not valid on Sun and public holidays
• 48-hour cancellation policy or voucher is forfeited
• Valid for ages 18 and over
• This deal excludes an implant crown
• Please arrive 5 mins prior to appointment time
• Results will vary for each person
• Timing of procedure to be agreed upon between patient and practitioner
• Recommended only for purchasers who fully understand the treatment and the risks of the treatment
• Full refund if practitioner deems client unsuitable for procedure or advises against procedure for any reason
• Refund available if client does not wish to proceed with treatment after initial consultation
• With the deposit option, remaining balance to be paid to Maxcare Dental directly at time of consultation
• Purchase of voucher does not amount to informed consent
• Missed appointments will constitute voucher being void
• Additional treatments incur an extra cost and additional appointments
• See the full terms and conditions that apply to Healthcare promotions
How to Redeem
• Appointment for initial consultation should occur: 90 days from purchase
• Phone to book: 093906575
• Email to book: [email protected]
• State Voucher and Security Code at time of booking
• Present printed or smartphone voucher on arrival
• Download free Groupon app for Android and iOS