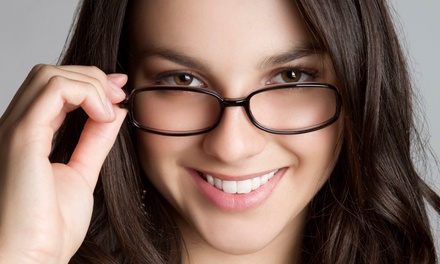 Receive a full and comprehensive eye exam from a qualified optometrist
Eye pressure and eye health check
Choose from a range of basic and branded frames and have them professionally fitted
Branded brands include Guess, Jono Hennessey, and William Morris. 
Basic brands include Monde, Everest, and OK
Bonus: Upgrade to transition,mulitifocal or polarised lenses – standard retail costs apply
Price: $69.00
Value: $337.00
Discount: 80%
You save: $268.00
Description
While the term four-eyes has often been used as an insult having an extra set of eyes can mean seeing things others might miss, like a $20 note on the pavement or an oncoming alien invasion. Keep both eyes open with today's Groupon for Spex For You Optometrists, CBD:
The Deal
$69 for basic frames with lenses and eye exam (total value up to $337)
$99 for branded frames with lenses and eye exam (total value up to $557)
Groupies will see things clearly after a complete eye exam from a qualified optometrist, including an eye pressure and glaucoma check. Upgrade facial accessories with a choice of basic or branded frames and have them professionally fit to ensure no awkward slip-offs. For those with additional vision requirements, upgrades to transition, multifocal and polarised lenses are available for an additional cost.
Spex For You Optometrists
Spex For You Optometrists is an independent optometrist operating in the CBD, which is convenient for city slickers in need of a vision check up. They pride themselves of delivering thorough examinations with honest advice on which frames suit your style. The optometrists can also offer contact lens fitting and drivers licence screening. Clients can upgrade to transitions, multi-focals, and polarised lenses at normal retail lens prices.
Auckland
Shop 888, Atrium on Elliot

Terms and Conditions
• Blackout dates: 26-27th Jan 2018
• Limit of 2 vouchers per person
• Purchase up to 1 additional as a gift
• Not valid Sun
• Valid hours:
Mon-Thurs 10am – 6pm, Fri 10am-12pm, Sat 10am-2pm
• Booking essential, subject to availability
• Valid only for a select range of in-store frames and lenses
• Not valid for frame upgrades
• Stock power ranges: Sphere power +4.00 to -3.00 and Cylinder power (Astigmatism) -0.25 to -2.00
• Lens upgrades available if outside the power range – normal retail lens prices apply
• Lens upgrades available to anti-reflectant coatings and suntints at further costs
• Lens upgrades available to transitions, multifocals and polarised lenses – normal retail lens prices apply
• Contact lens prescriptions at further cost. Frames only in sections shown in store
• Visual field tests not included
• Driver licence forms at further cost
• Cannot be used with own frames
• No exchanges
• Must be used in 1 visit. Not for use with other offers.
• Original value verified 14 May 2015
• Standard fine print for all deals
How to Redeem
• Appointment for initial consultation with practitioner should occur: 90 days from purchase
• Phone to book: (09) 365 2906
• State Voucher and Security Code at time of booking
• Present smartphone or printed voucher on arrival
• Download free Groupon app for Android and iOS