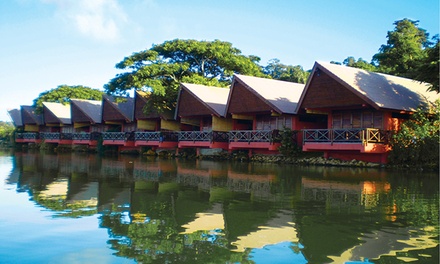 An adults-only, Melanesian-style resort, minutes from Port Villa, offers guests relaxing and quiet setting, outdoor pool, and watersports
Price: $967.00
Value: $1,409.00
Discount: 31%
You save: $442.00
Description
The Hotel: Sunset Bungalows Resort Vanuatu
The adults-only Sunset Bungalows Resort is nestled in a quiet, tropical setting, just minutes from the bustling Port Villa. The resort, featuring an outdoor swimming pool and a waterfall, offers a relaxing place to unwind during the holiday. Guests can use the watersports equipment free of charge, so venturing out in the clear and turquoise waters on the kayaks.
The Lagoon View Studios, furnished in Melanesian-inspired style, offer comfortable accommodation with modern amenities, including air conditioning. To keep the travellers entertained, the studios feature TVs equipped with cable and DVD players and the hotel offers a complimentary DVD rental from its extensive library.
Room Details
Lagoon View Studio
Bed size/type: King bed
Standard occupancy: Two people
Maximum occupancy: Two people
The studio features a balcony, bathroom with separate shower, bar fridge, tea- and coffee-making facilities, and TV with cable
The Area: Vanuatu
A secluded paradise situated in the temperate South Pacific, Vanuatu is a string of 83 tropical islands. Boasting beaches fringed with palm trees, vibrant coral reefs, wild emerald jungle, and enchanting traditional villages, Vanuatu is perhaps most famous for the easy-going friendliness of its people. Port Vila, the largest city in Vanuatu, preserves the unique tranquillity of the nation's island culture while maintaining a link to the luxuries and conveniences of the modern world.
Meaning 'land eternal', Vanuatu possesses a proud cultural heritage, home to tribal communities with ancient customs still intact, and varied geography that includes active volcanoes and gorgeous underwater paradises just waiting to be discovered.
No matter where they stay, travellers have all the ingredients for a fun tropical holiday at their fingertips. Lie in the sun or swim in the clear, calm turquoise waters; paddle around the bay on a kayak or island-style outrigger canoe; or snorkel among coral and colourful fish.
Port Vila
Port Vila

Terms and Conditions
• A surcharge of AUD $150 (about NZ $161) per couple applies for 4-night options for travel between 1 Jul and 31 Oct 2018.
• Upgrade to Waterfront Superior Bungalow AUD $200 (about NZ $215) per couple for the 4 nights. To upgrade room to Waterfront Superior Bungalow during 1 Jul-31 Oct 2018 period, add AUD $220 (about NZ $237) per couple for the 4 nights.
• A surcharge of AUD 250 (about NZ $269) per couple applies for 7-night options for travel between 1 Jul and 31 Oct 2018.
• Upgrade to Waterfront Superior Bungalow AUD $330 (about NZ $355) per couple for the 7 nights.To upgrade room to Waterfront Superior Bungalow during 1 Jul-31 Oct 2018 period, add AUD $390 (about NZ $420) per couple for the 7 nights.
• Deal is valid for 2 adults in Lagoon View Studio
• Purchase multiple vouchers for yourself or gifts
• Combine vouchers to extend your stay
• The resort is adults only
• Groupon strongly encourages all travelers to check official advice available at safetravel.govt.nz prior to purchasing this deal
• Travel insurance not included; customers are advised to purchase appropriate cover after booking
• Read more about purchase options and common Travel Terms here
• Original value verified on: 28 Mar 2018
• Read more about purchase options and common Travel Terms here
• Standard fine print which applies to all travel promotions
How to Redeem
• Can travel to: 31 Mar 2019
• Email to book: [email protected]
• Phone to book: 00678 29968
• State name, preferred dates of stay and attach PDF voucher
• Present booking confirmation from hotel and passport(s) on arrival