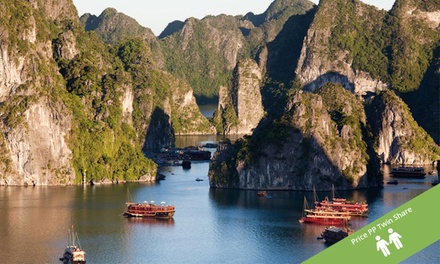 Discover landmarks and historical areas of Vietnam, embark on a Halong Bay cruise, and see how the locals live along the Mekong Delta
Price: $869.00
Value: $2,290.00
Discount: 62%
You save: $1,421.00
Description
The Experience
Travellers are invited to embark on a 12-day adventure and discover the gems of Vietnam with guided tours. During the experience, holidaymakers can learn more about Vietnam's past, discover famous sites of Hanoi, Halong, Sapa, Hoi An, Ho Chi Minh, Mekong, and Cu Chi, visit the 4th-century religious centre of My Son and cruise the waters of Halong Bay.
Day 1: Arrive in Hanoi; transfer to the hotel in the city centre; rest of the day at your leisure.
Day 2: Embark on a Halong Bay cruise and spend the day exploring Sung Sot Cave, cruise to Titov Island and enjoying the sun on the deck; take part in a sunset party aboard and optional squid fishing.
Day 3: Start the day from Tai Chi aboard, kayak around the Drum Cave; participate in a cooking class and enjoy a Vietnamese lunch on board before disembarking and returning to Hanoi.
Day 4: Transfer to Sapa; indulge in the scenic views during the journey, savour Vietnamese lunch after arrival, take part in a short trek to the gate of Cat Cat village which is home of Black H'mong ethnic people.
Day 5: Trek from Sapa to Y Linh Ho then trek through the rice terraces and along Muong Hoa Stream to the Black Hmong village of Lao Chai to see the spectacular landscape of Hoang Lien Son Mountain. Visit Ta Van, before going back to Hanoi.
Day 6: Morning at your leisure; transfer to the train station for an overnight train journey to Danang.
Day 7: Transfer from the train station to the hotel in Hoi An; rest of the day at your leisure.
Day 8: Trip to My Son Holy Land, surrounded by mountains 4th-century religious centre with numerous temples, towers, and ancient buildings; take a boat trip down River Thu Bon and visit a traditional local village.
Day 9: Transfer to the airport for a flight to Ho Chi Minh City; transfer to the hotel and leisure time on your own.
Day 10: Take a scenic journey among the vividly green rice fields to visit Vinh Trang pagoda and take a boat ride along the river overviewing fruit plantations and fishing villages; explore Tortoise Islet and An Khanh, and learn more about the local life in the Mekong Delta.
Day 11: Head to Cu Chi, where you can learn about the famous tunnel network and its significance during the Vietnam War.
Day 12: Explore Ho Chi Minh City on your own before transfer back to the airport.
See the full itinerary here.
Halong Tours Booking
No 16 lane 186 Ngoc Thuy

Terms and Conditions
• A surcharge of US$100 per person applies for travel between 24 Apr-5 May; 28 Aug-5 Sep; 24 Dec 2018-5 Jan 2019; 20 Jan-20 Feb 2019
• Deal is valid for 1 person based on 2 people travelling together (twin share)
• Vouchers cannot be combined to extend stay
• Check availability before purchase
• Flight ticket from Danang – Ho Chi Minh (Vietnam Airlines-the first priority), with 20kg check-in luggage and 7kg hand luggage
• Upgrade available to exchange train transport for a flight from Hanoi to Danang and add 1 night at 3-star hotel for US$58 per person (the price can be changed due to airfare), payable directly to Halong Tours Booking – subject to availability
• Double/twin sharing will join a four-berth cabin on a train to Danang
• Upgrade to all 4-star accommodations will incur a surcharge (double/twin share) payable directly to Halong Tours Booking – subject to availability
• Upgrade to private tours in Hoi An instead of group tour available payable directly to Halong Tours Booking – subject to availability
• Upgrade to a small group or private tours in Ho Chi Minh payable directly to Halong Tours Booking – subject to availability
• Single supplement (one person travelling alone): $499 payable at time of booking
• Groupon strongly encourages all travelers to check official advice available at safetravel.govt.nz prior to purchasing this deal
• Travel insurance not included; customers are advised to purchase appropriate cover after booking
• Original value verified on: 29 Mar 2018
• Read more about purchase options and common Travel Terms here
• Standard fine print which applies to all travel promotions
How to Redeem
Check Availability Make a Booking
• Can travel to: 30 May 2019
• Purchase your voucher and book online via reservation.grouponnz.co.nz
• If you received your voucher as a gift, sign in or register for a Groupon account then click on the 'BOOK A GIFT' button
• Select date of booking and enter details
• You'll receive an email to confirm reservation details
• Present printed voucher on arrival