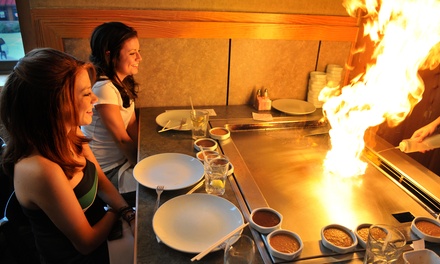 Groups of up to 12 can enjoy a Japanese meal, featuring dishes such as miso soup, spring rolls and fish fillet
Price: $32.00
Value: $61.80
Discount: 48%
You save: $29.80
Description
The Deal
$32 for a live teppanyaki show and dinner for two people (total value up to $61.80)
Green salad
Miso soup
Spring roll
Chicken
Fish fillet
Fried rice
Mixed vegetables
$62 for a live teppanyaki show and dinner for four people (total value up to $123.60)
$92 for a live teppanyaki show and dinner for six people (total value up to $185.40)
$182 for a live teppanyaki show and dinner for two people (total value up to $370.80)
Experience the skill and precision of Japanese cuisine
Watch as the chefs perform and show off their teppanyaki skills with the theatrics associated with this style of cooking
Options for up to 12 people
Centrally located on Taranaki Street
Menu items may be subject to seasonal change.
Fujiyama Teppanyaki Japanese
Fujiyama Teppanyaki Japanese challenges the definition of 'dinner and a show' with the Japanese hot plate style of cooking. Diners watch on as their food is prepared right before their eyes, with all the accompany theatrics that teppanyaki is known for. Fujiyama also offers a dinner menu boasting fresh sushi and sashimi, as well as a host of other dishes. Stop by for dinner seven days a week.
Te Aro
36 Taranaki Street

Terms and Conditions
• Limit of 2 vouchers per person
• Purchase up to 1 additional as a gift
• Max 1 voucher per visit
• Valid only Sun-Wed
• Eat-in only
• Not valid for BYO
• Bookings essential and must book through "make a booking" tab below. Bookings are essential and no walk ins will be accepted.
• Menu is subject to change
• Valid for set menu A with spring roll or vegetarian set menu; If you would like a more expensive menu then simply pay the difference on the night.
• Vouchers are valid for the stated number of diners only and additional guests are to order at normal price
• Original value verified on: 17 Feb 2017
• Standard fine print for all deals
How to Redeem
Check AvailabilityMake a Booking
• Expiry: 90 days from purchase
• Bookings essential and are to be made through 'make a booking" tab above
• Purchase voucher and book online via reservation.grouponnz.co.nz
• If you received your voucher as a gift, sign in or register for a Groupon account then click on the 'BOOK A GIFT' button
• Select date of booking and enter details
• You'll receive an email to confirm reservation details