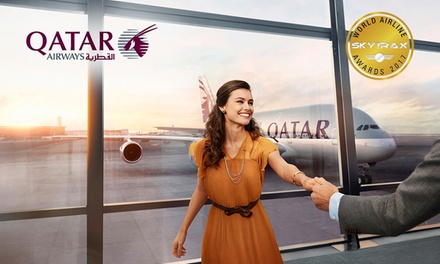 Pay $5 or $9 to get 15%* off voucher on Qatar Airways Economy or Business class Flights and experience the skies like never before
Price: $5.00
Value: $5.00
Discount: 0%
You save: $0.00
Description
Qatar Airways
Experience the skies like never before with Qatar Airways.
Flying from Auckland to more than 150 destinations worldwide, including 43 European cities via one quick stop at Hamad International Airport in Doha. As a Oneworld airline partner, Qatar Airways lets travellers enjoy benefits such as earning and redeeming points on other Oneworld carriers, along with access to over 1000 Oneworld lounges around the world.
Qatar Airways state-of-the-art fleet, premium onboard lounges and award-winning crew will ensure you arrive relaxed and ready at your end destination. Experience why they were voted 'World's Best Airline' by Skytrax in 2015 and 2017 and 'World's Best Business Class' by Skytrax in 2016 and 2017.
How to Book and Receive the Discount:
2) Type in the origin and destination you wish to travel to
3) Choose your departing and returning date
4) Type in the unique Groupon Voucher code into the ''Promo code'' field
5) Click search and discount fare will be shown with a ''Groupon fare''
The discount applies to the base airfare only, and does not apply to taxes, surcharges and all other standard market surcharges.
Auckland Airport
Ray Emery Dr

Terms and Conditions
• Travel period – 30 March 2018 – 31 March 2019. For travel originating from Auckland
• Offer valid on Qatar Airways operated flights only (not applicable on any interline or codeshare flights)
• Discount applies to the base airfare fare only.
• Discount does not apply to taxes, surcharges and all other standard market surcharges
• Offer is applicable to all online Europe, The Americas, African, and Middle Eastern destinations Qatar Airways flies to.
– Flights to Cardiff starting from 1 May 2018.
– Flights to Mykonos starting from 30 May 2018
• Purchases can only be made through https://www.qatarairways.com/en-nz/offers/cug/groupon-promotion.html?cid=SRNZ41800 by entering the promotional code at the time of booking.
• Qatar Airways will not be responsible for any fare differences if customers fail to enter the given promo code at the time of booking.
• Fares displayed will already include the applicable discounts.
• Customers who did not receive a discount, cannot be credited retrospectively.
• Valid for return and one-way fares
• 15% discount on the base fare amount in Business Class will apply to booking classes: D, J, C (Regular: Value and Flexi)
• 15% discount on the base fare amount in Business Class will apply to booking classes: R, I (Promotional: Promo and Saver)
• 15% discount on the base fare amount in Economy Class will apply to booking classes: N, S, V, L, M, K, H, B, Y (Regular: Value and Flexi).
• 15% discount on the base fare amount in Economy Class will apply to booking classes: W, O, T, Q (Promotional: Promo and Saver)
• Groupon customers may use this offer more than once during the offer period
• Not valid in combination with any other promotion or any other market fares
• Changes and Cancellation: see detailed fare rules at the time of booking
• Seats are limited and might not be available on all flights; Subject to availability in the respective booking class at the time of booking.
• Minimum Stay / Maximum Stay – Depends on the class booked. Please review at the time of booking.
• A Credit card transaction fee of 1.5% applies, with a maximum of NZD $70 per person for bookings
• There is no charge for Debit card and other forms of payment
• For full terms and conditions, please review detailed fare rules at the time of booking
• Groupon strongly encourages all travelers to check official advice available at safetravel.govt.nz prior to purchasing this deal
• Travel insurance not included; customers are advised to purchase appropriate cover after booking
• Read more about purchase options and common Travel Terms here
• Standard fine print which applies to all travel promotions
How to Redeem
• Valid for flights departing until 31 Mar 2019
• Must book by: 30 Apr 2018
• 1) Book online: https://www.qatarairways.com/en-nz/offers/cug/groupon-promotion.html?cid=SRNZ41800
• 2) Type in the origin and destination you wish to travel to
• 3) Choose your departing and returning date
• 4) Type in the unique Groupon Voucher code into the "Promo code" field
• 5) Click search and discount fare will be shown with a "Groupon discount"